Darius styled himself as "the Great King, King of Kings, king in Persia, king of countries . . . an Achaemenian." (The Behistun Inscription, Column 1, lines 1-3)
King Darius did not style himself as a god. Instead, he represents the deity Ahura Mazda as hovering over the king.
"As below, so above." It stands to reason that Ahura Mazda is the Achaemenian "Great G-d." So, he is "the G-d of gods," but especially inclined to favor the Achaemenians.
It appears that the Achaemenian religion tended to be monotheistic. We know of no worship, cult, or priests associated with the Achaemenid Empire or with Ahura Mazda during the period.
Darius portrayed the god Ahura Mazda in the image of the Great King from the waist upward. However, he grasps a ring in his left hand and extends his right hand forward, bent at the elbow. A hoop surrounds the Great King's waist. Below his waist, Ahura Mazda is represented as possessing a stylized tail of a bird. Stylized wings extend from the hoop in both directions. Ahura Mazda has two bird legs, each with three talons.
Fire pedestals appear both on Darius's tomb and on the presumed tomb of his son Xerxes at Naqsh-i-Rustam – see below. (No inscriptions appear on the face of this tomb. It is an educated guess to say that this is Xerxes' tomb.)
The Great King faces Ahura Mazda and the fire pedestal. We do not know what the fire pedestal meant to Darius the Great.
The sun inside a crescent moon appears in the upper right corner of the relief. We also do not know what the depiction of the sun and moon meant to Darius. The king's platform is carried by people who represent the king's subjects.
In Achaemenian reliefs, Ahura Mazda hovers over the earthly scenes.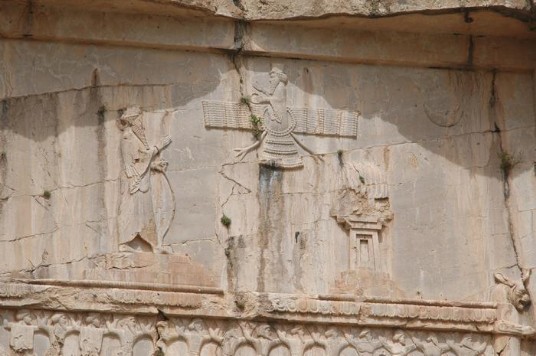 Photo © Marco Prins. Used with permission (from Livius.org). †